Sign In
Important Orders/Changes in 7CPC Allowances
7CPC - HRA | 7CPC - Transport Allowance | 7CPC -Family Planning Allowance | 7CPC - Gazette Notification on Allowances
7CPC House Rent Allowances

Classification
of Cities

Rate of
HRA

Rate of HRA
(DA 25% Above)

Rate of HRA
(DA 50% Above)

Minimum
HRA

24%

27%

Y

16%

18%

20%

3600/-

Z

8%

9%

10%

1800/-
Cities classified as 'Y'in Kerala: Kozhikode (UA), Kochi (UA), Thlruvanathapuram (UA), Thrissur (UA), Malappuram(UA), Kannur (UA), Kollam (UA). The remaining cities are classifed as 'Z' for the purpose of HRA. There are no cities in Kerala classified as 'X'. The allowances shall be effective from 1st July 2017.
7CPC Transport Allowances

Employees drawing Pay in Pay Level

Rate of TA in Cities
at higher rates *


Rate of TA in Cities
at lower rates


Rs.7200 + DA thereon

3 to 8

Rs.3600 + DA thereon

Rs.1800 + DA thereon

1 to 2

Rs.1350 + DA thereon

Rs.900 + DA thereon
*The cities in Kerala eligible for TA at higher rates: Kochi (UA) & Kozhikode (UA) (View Order) The allowances shall be effective from 1st July 2017.
View all allowances abolished/retained
Important Changes in the revised Paymatrix
1. The IOR (Index of Rationalisation) of Level-13 of Civil Pay Matrix shall also be enhanced from 2.57 to 2.67. Accordingly, the Civil Pay Matrix shall be revised.

Central staff to get 5% DA w.e.f 01.07.2017
The Central government increased the Dearness Allowance to 5% from the existing 4% from July 1, 2017.
New Payroll Application Rolled Out
New payroll application has been rolled out conforming to 7th CPC recommendations and Notifications. All registered employees can view their new pay fixation statement, pay arrear statements and new payslip in the system.
Award of Commendation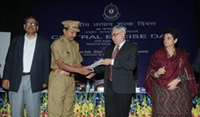 Shri. Sasikumar T., Inspector of Central Excise, Trivandrum, is felicitated with award of Commendation by Shri Parthasarathi Shome, Adviser to the Union Finance Minister on the occasion of "Central Excise Day Celebration-2013" at New Delhi for development of Cepsonline application for Payroll and HR in the Central Excise and Customs Department, Kerala Zone, as service. The Revenue Secretary, Shri Sumit Bose and the CBEC Chairperson, Smt. Praveen Mahajan are also seen.