Sign In
Pay Particulars from 2012
Much awaited module has been added in the system in which pay particulars for the period from 2012 onwards can be viewed financial year wise or calendar wise.
Click here
Closed Holidays for 2015
Holiday List for 2015 for the Central Government Offices in Kerala has been issued by Central Government Employees Welfare Co-ordination Committee (CGEWCC), Thiruvananthapuram.
Click here for Holiday List
Annual General Transfer, 2015
The department has called for transfer application for AGT 2015 from the officers in Kerala zone. The last date for submission of application is 31.01.2015.
As in AGT-2014, the system is ready to capture the new proforma for 2015. In the last year, with the co-operation of the officers, transfer and posting orders could be processed and published in record time. All officers are requested to submit their transfer/retention requests in the new proforma available in the system for considering their cases for Annual General Transfer-2015. Please obtain userid and password from DDO concerned for accessing and submit the application online.
Update Aadhaar no.(requires login)

As per order no. 11013/9/2014- Estt (A-III) of DoPT, the implementation of the Aadhaar based biometric attendance is time bound, ie. by 26 th January 2015. All officers are requested to update Aadhaar number in this system for departmental use.

Calculate Income Tax for F.Y.2014-15 (requires login)
Calculate your income tax based on the tax slabs for year 2014-2015. This section helps you to view the salary details upto October 2014 and remaining as you received in October 2014 including DA from January 2015 @ 7% (Total 114%) and income tax liability as per latest slabs as show below;

| | | |
| --- | --- | --- |
| | 0 to 2,50,000 | No tax |
| | 2,50,001 to 5,00,000 | 10% |
| | 5,00,001 to 10,00,000 | 20% |
| | Above 10,00,000 | 30% |
Click here to view income tax for 2014-15
Ad-hoc Bonus for 2013-14 Orders issued
Grant of Ad-Hoc Bonus to Central Government Employees for 2013-14 - Orders issued.
Click here to download the Order dated 18.09.2014
7 % DA hike for Central staff
The Union Cabinet gave its approval on Thursday for the release of a 7 per cent additional instalment of Dearness Allowance (DA) to Central Government employees. It also approved Dearness Relief (DR) for pensioners. Both DA and DR will become effective from July 1, 2014.
This is an increase of 7 per cent over the existing rate of 100 percent of the Basic Pay/Pension to compensate for price rise, said an official release issued on Thursday.
The increase is in accordance with an accepted formula based on the recommendations of the 6th Central Pay Commission.
In April this year, the government announced DA increase from 72 to 80 per cent with effect from January 1, 2013.
Award of Commendation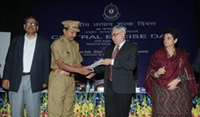 Shri. Sasikumar T, Inspector of Central Excise, Thiruvananthapuram receives Commendation Certificate from Shri Parthasarathi Shome, Adviser to the Union Finance Minister, at the "Central Excise Day Celebrations", in New Delhi on February 25, 2013 for developing application for the department. The Revenue Secretary, Shri Sumit Bose and the CBEC Chairperson, Smt. Praveen Mahajan are also seen.